300W 500W Pulse Laser Cleaning Machine Laser Metal Rust Remover Laser Rust Oil Paint Coating Fine Cleaning Machine
Pulse Type 300W 500W Fiber Laser Cleaner Metal Rust Fine Cleaning Machine, 220V 1-Phase, 10m Fiber Cable Length, Free Shipping by DHL 5-10 Days to Door.
8% OFF 9.16-9.28, Coupon Code: SFX
Brand:

SFX

Product Code:

LCM-300/LCM-500

Availability:

In Stock

Product Size:

0.87 x 0.56 x 1.05 m

Weight:

170 kg
8% OFF
Order more than $0.00
Get Coupon
Order more than $0.00

2023-09-16 - 2023-09-29

Order more than $0.00

2023-09-16 - 2023-09-29
Product Parameters:
Model: LCM-300 LCM-500

Laser Power: 300W 500W

Laser Wavelength: 1080±10nm

Laser Working Mode: Pulsed

Pulse Width: 10-500ns

Frequency Range: 1-1000kHz

Fiber Cable Length: 10m

Adjustable Scanning Range: 10-130mm (According to lens, 160/210/300 is optional)

Cooling Method: LCM-300 Air Cooling/Water Cooling; LCM-500 Water Cooling

Working Voltage:

AC 220V±10%

Power Consumption: 3KW/4KW

Anti-Reflection Protection: Yes

Operation Temperature: 0-35°C

Operation Humidity: ≤80%

Machine Demension: 870*560*1050mm

Net Weight: 160kg/170kg
Features and Advantages:
Higher Cleaning Efficiency. No damage to the substrate.

Suitable for fine cleaning

.

Easy cleaning without effort. Can cooperate with manipulator, realize automatic cleaning, makes the cleaning effect more evenly.

Double wobble smart cleaning head.

Easy to operate and good stability.

Support 8 cleaning modes

, applicable to complex scenes.

Thick sheet metal chassis. Strong structure, anti-deformation and good heat dissipation.

10m fiber cable

for larger range of activities.

Smart Control Panel. Full touch screen operation interface. Support multilingual process library design, set once and use at any time.

Passed multiple rigorous tests ( High temperature/Vibration/Anti-interference/Fatigue/High humidity/Bend resistance test), reliable quality, stable and durable.
Application and Service:
Suitable for rust removal, oil removal, paint removal, coating removal, oxidation layer removal, plating removal, mold cleaning, adhesive layer removal, cultural relic restoration, etc.

Can be used in aerospace, mold, automobile, food, tire hub, pharmaceutical, chemical and other industries.

1 Year warranty for the whole machine, 2 Years warranty for the laser source. (Consumables are not covered by warranty)

After sales center in NY, US. Offer remote assistance for operation issues, lifetime online technical support.

Free shipping to your door by DHL about 5-10 days, No import duty for American customers.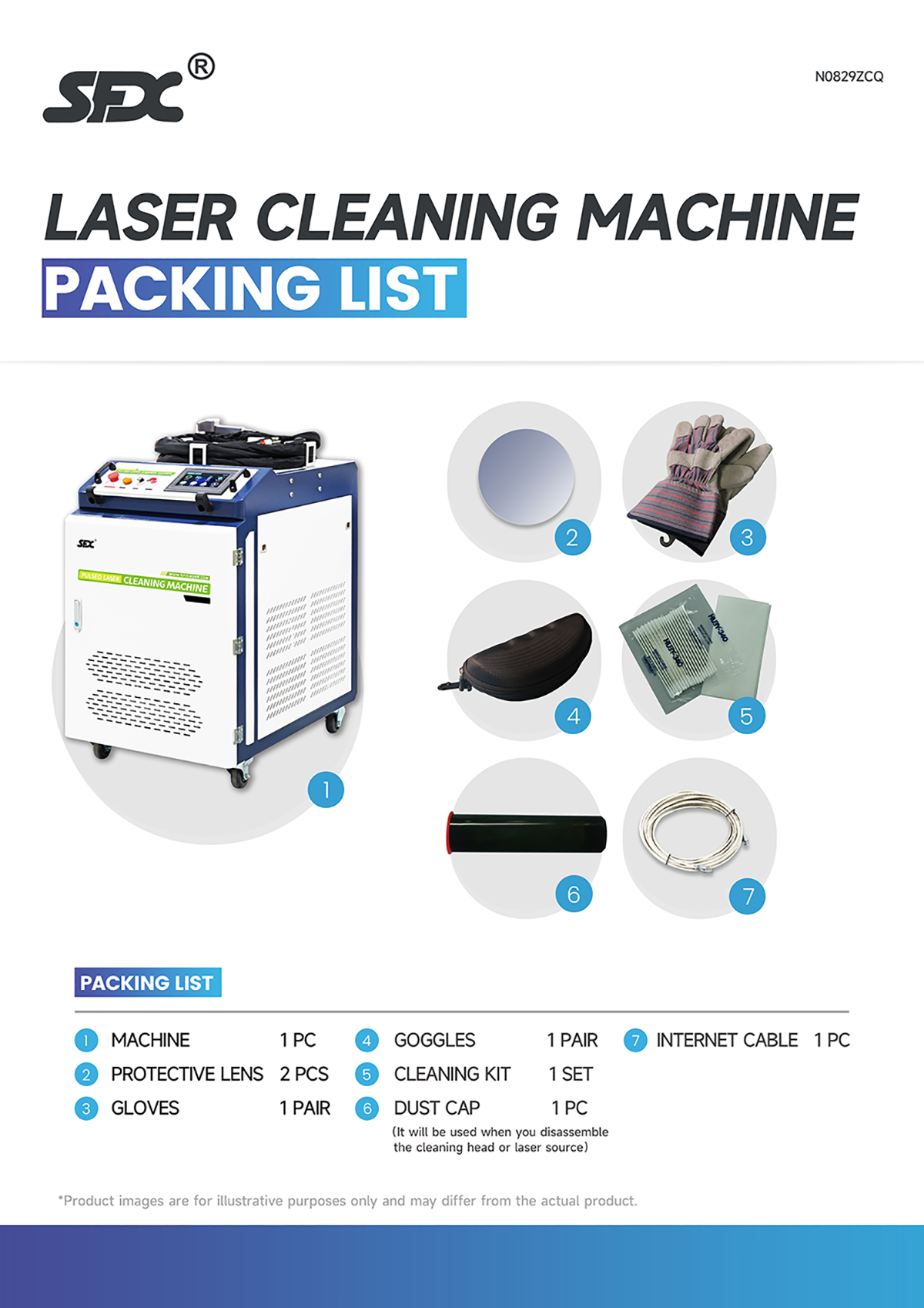 Product details
Adjustable Scanning Range
10-130mm (According to lens, 160/210/300 is optional)
Anti-Reflection Protection
Yes
Cooling Method:
LCM-300 Air Cooling/Water Cooling; LCM-500 Water Cooling
Fiber Cable Length
10m
Frequency Range
1-1000kHz
Laser Power
300W 500W
Laser Wavelength
1080±10nm
Laser Working Mode
Pulsed
Machine Demension
870*560*1050mm
Model
LCM-300 LCM-500
Net Weight
160kg/170kg
Operation Humidity
≤80%
Operation Temperature
0-35°C
Power Consumption
3KW/4KW
Pulse Width
10-500ns
Working Voltage
AC 220V±10%