US Stock MAX 1000W/1500W/2000W Continuous Handheld Laser Cleaning Machine Rust/Oil/Paint/Coating Remover
SFX MAX Laser Source CW Fiber Laser Cleaner. Metal Objects Rust, Painting, Oil and Coating Removal Laser. Continuous Operation not Burn Lens. 220V Single Phase. USA After Sales Center. LC-2000 Stock Available Now in NY, USA.
8% OFF 9.16-9.28, Coupon Code: SFX
Brand:

SFX

Product Code:

MAX-LC-1000/1500/2000

Availability:

In Stock

Weight:

145 kg
8% OFF
Order more than $0.00
Get Coupon
Order more than $0.00

2023-09-16 - 2023-09-29

Order more than $0.00

2023-09-16 - 2023-09-29
Technical Parameters:
Laser Source Power: MAX 1000W/1500W/2000W

Scanning Width: 160±10mm

Laser Type: Continuous

Output Power:6KW/8KW/10KW(Chiller included)

Cleaning Efficiency: 15-45m2/h

Cable Length: Standard 10m (customizable 15m, 20m)

Laser wavelength: 1080±10nm

Voltage:

220V 1-phase

Environment Humidity: ≤70% without condensation

Cooling Method: Water cooling

Cooling Water Requirements: Purified or distilled water
Features and Advantages:
MAX Laser Source, Hanli Chiller, Thickened Sheet Metal Structure, Firm and Anti-deformation

. Excellent Quality Products Materials from First-line Manufacturers.

Upgraded Laser Cleaning Head, Independent Research and Development,

Continuous Operation without Burning the Lens

. Lightweight and Easy to Use.

Where the Laser Goes, All Can be Cleaned.

Non-contact 360° Cleaning

. Not Limited by Space and Location, Environmental Friendly without Consumables.

10m Brand Optical Fiber Cable

, Flexible and Easy to Clean on Large Irregular Workpieces.

Suitable for Large-scale Efficient Cleaning

.

Red Light Assisted Positioning

, Precise Control, Easy Operation. Double-click the Switch to Start Cleaning, Avoiding Accidental Touch, Operation is Safer.

550-600mm Focal Length,

Cleaning Width up to 160±10mm

, High Tolerance, Low Light Attenuation.

1000mm/s Ultra-high-speed Intelligent Control Galvanometer System, Automatic Optimization of Acceleration and Deceleration Power.

Passed many rigorous tests

.(Continuous working, Vibration, Fatigue, High temperature, High Humidity, Dust proof test, etc)

SFX Laser Factory Direct Sale, Mass Produce, Lower Cost. CE, ISO and FDA Certificate.
Application:
Applicable Industries: Aviation and Marine, Electromechanical, Rubber Mold, Equipment Manufacturing, Auto Parts, Food Processing.

Common Applications:

Classic Car Rust Paint Repair

,

Steel Construction Rust Removal

,

Graffiti Removal

, Metal Parts Cleaning, Derusting Parts, Gear Decontamination, Casting Paint Removal, Mold Cleaning, Weld Seam Cleaning, Paint Stripping and Removal, Rust and Corrosion Removal, etc

Mill scale of hot-rolled steel, light-colored paint and high-temperature-treated paint or coating are not easy to remove. Please confirm with us before placing an order. It would be better to send samples for testing.
Service and Delivery:
1 Year Warranty for the Whole Machine, 2 Years Warranty for the Laser Source. (Consumables are not covered by warranty)

After Sales Center in NY, US

. Offer Remote Assistance for Operation Issues, Lifetime Online Technical Support.

Free Shipping 5-10 Days Delivery Time by DHL

to Your Door, No Import Duty for American Customers.

2000W Laser Cleaning Machine Stock Available Now in NY, USA. Fast Delivery.

Consumables are

Protective Lens

, You can Buy More Together with the Machine.

We also have

Mobile Laser Cleaning Machine

for Optional.

Recommended Match:

Smoke Purifier

.

The Smoke Purifier can filter and purify the smoke, soot, dust, etc generated from the laser cleaning processing. Protect the operator from the harmful gas. (Package Purchase Save $150)

More cleaning cases, please visit our Youtube Channel

SFX Laser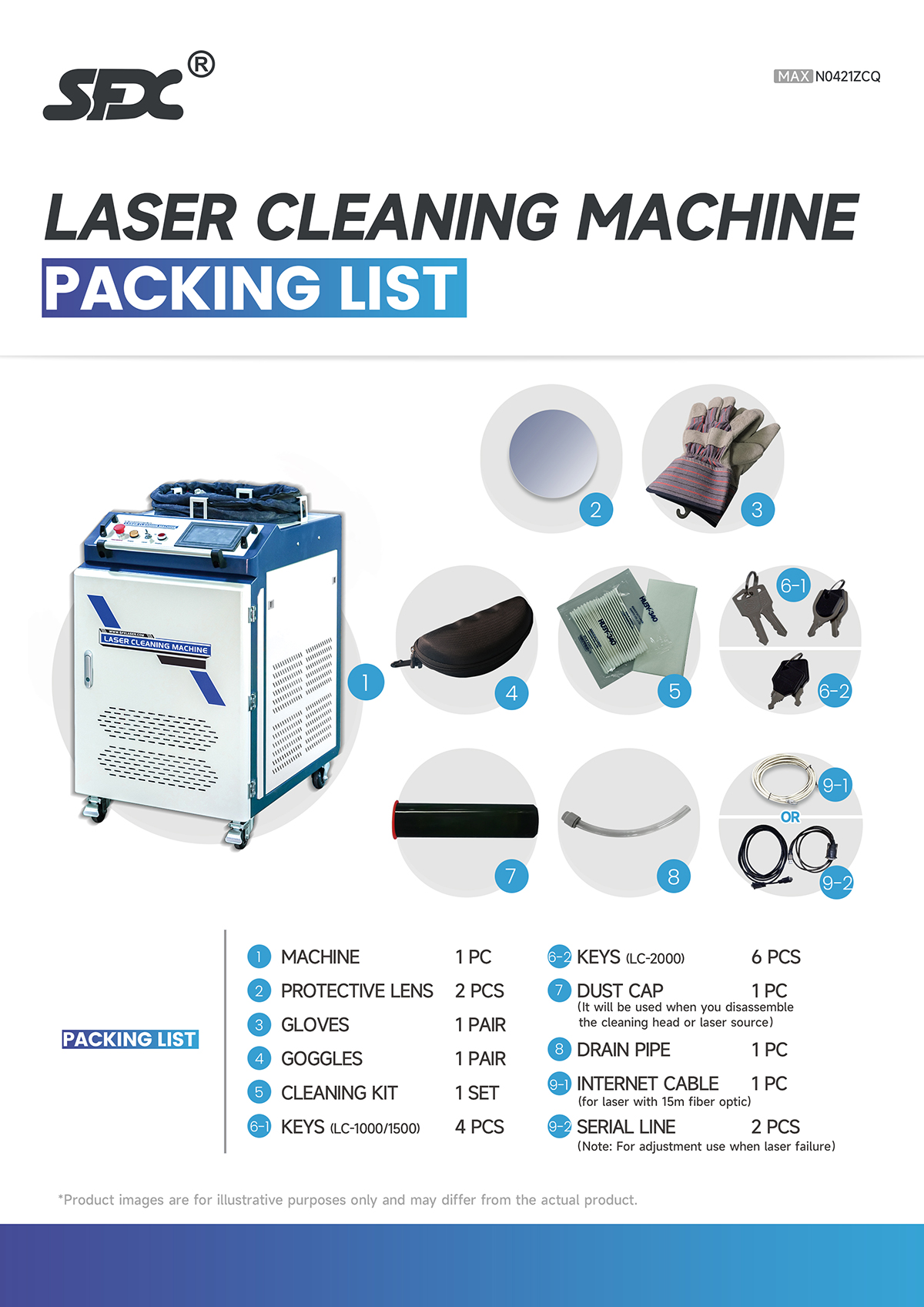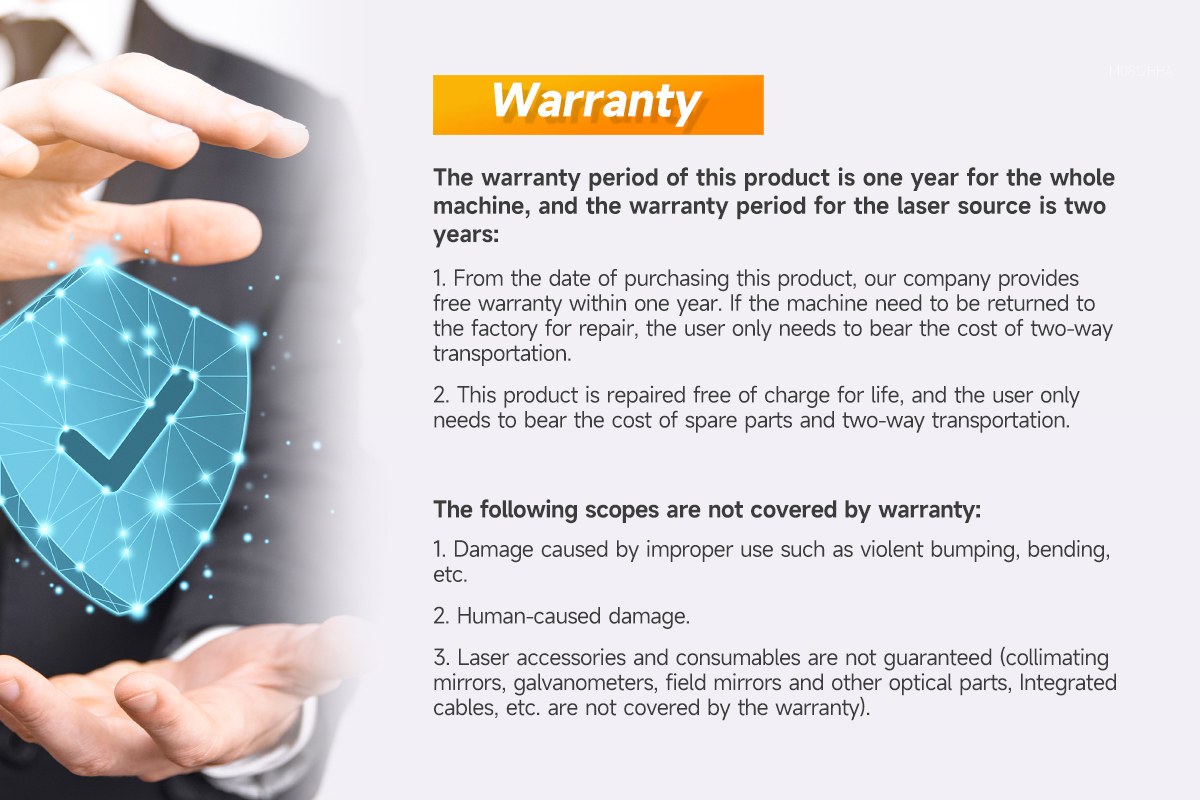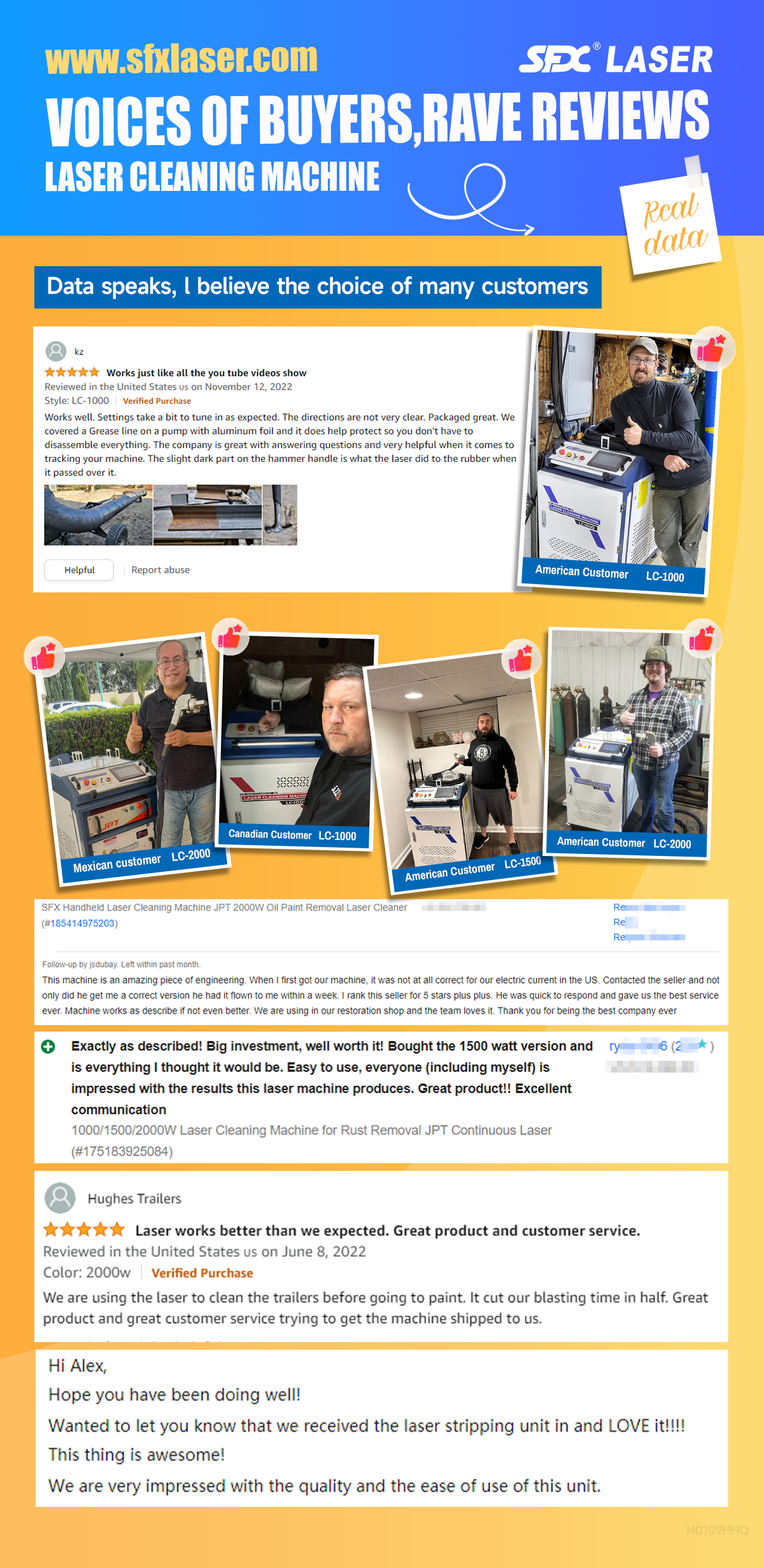 Product details
Cable Length
10m
Cleaning Efficiency
15-45m2/h
Cooling Method
Water cooling
Cooling Water Requirements
Purified or distilled water
Environment Humidity
≤70% no condensation
Laser Source Power
1000W/1500W/2000W
Laser Type
Continuous
Laser Wavelength
1080±10nm
Machine Dimension
870*560*1050mm
Machine Weight
145/165/180kg
Scanning Width
160±10mm
Total Power
6000-10000W(Chiller included)
Voltage
220V 1-phase